Ready for Greece? If you bring your smart phone with you, we have selected the applications that might be useful to you. Transform your smart phone in to your best travel friend! Best Apps for Holidays in Greece!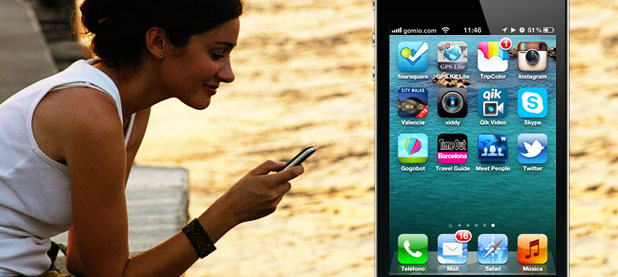 1. Vodafone Explore Greece


A must have application for everyone visiting or planning to visit Greece, available in English, German, Italian and Greek.
Explore Greece with the best mobile guide and let an amazing journey begin. Embark on a virtual vacation through the heart and soul of Greece.
Visit the famous Greek Islands and the legendary land with guidance and tips from expert tourist guides.
Discover the most beautiful beaches and watch amazing videos from previous visitors.
Find out everything about Greek history and culture through pictures and related information.
Look up for sightseeing, beaches, hotels, restaurants, bars, ATMs, pharmacies and other points of interests on the map when you are visiting, using your GPS location.
Check out the Greek food section and learn about the recipes.
Learn how to speak Greek using the handy audio guide!
Get special deals on hotels, travel, restaurants and museums if you are a Vodafone Customer.
Finally upload a picture of you in Greece as a postcard and share it with your friends using your Facebook account.
2. Dictionary Greek English Free

Dictionary Greek English Free is a fast OFFLINE dictionary. Database is downloaded on first use. Will sit on the SD card.
This is the FREE, ad version of the BK Dictionary Greek English dictionary. To remove ads please buy BK Dictionary Greek English!
It includes voice pronunciation and 29,000 words+ translation pairs.
You can Scroll through the whole dictionary and search quickly while typing (accentuation independent). There is also a detailed view with PHRASES tapping on the words. You can tap on any word in the detailed view, to find its translations.
Search and Google translate integration are available as well as Bing and Wikipedia integration.
3. Meteo.gr

You will have access to the 6-day weather forecast, webcams for real-time observation and current weather conditions.
It also features My Meteo (my favorite locations), forecast by Regions, winter destinations and ski resorts as well as weather at sea and road network.
Daily updates about the weather are also available.
The user has the option to zoom on the map or search for a region from the alphabetical list (in case they don't know where is the area on the map).
In addition, the menu options of the basic barbell are adjusted according to the user's needs. For example, someone who is involved with winter sports can have on basic bar the 'Ski Resorts', while a professional motorist the "Road Network", etc.
4. Greece Travel Guide by Triposo

This application gives you suggestions of what's interesting to see and do in Greece, depending on time, weather and your location.
A detailed sights section is given, with all the monuments of Athens, Thessaloniki, Rhodes, Heraklion.
You also have access to the eating out section with the best restaurants in Athens, Thessaloniki, Rhodes, Heraklion. You can discover the nightlife of Greece or find and book hotels in Greece directly from the app (when online).
You can use offline maps of the most important cities with complete background information of Greece.
It offers currency converter, phrasebook, and weather forecast (updated when online).
5. My Vacation (iPhone)

My Vacation is a complete travelogue in the palm of your hand.
With it you can plan your activities and what to pack before the vacation or create a travel journal containing photos, videos, maps, journals and audio recordings with possibility of upload to Dropbox, Facebook, Blogger, WordPress, Flicker, Twitter, Email and create postcards.
By letting you organize your photos and videos as you go along, it creates a complete record of your trip – one that you can playback and share with friends and family in several different ways.
6. Thessaloniki Map and Walks

This handy application presents you several self-guided walking tours to see the best of the Thessaloniki, Greece, and it comes with detailed tour route maps and powerful navigation features to guide you from one sight to the next. Now you can explore all of the best attractions on your own, at your own pace, and at a cost that is only a fraction of what you would normally pay for a guided tour.
Walking tours included in this application are:
* Thessaloniki Museums (8 sights)
* Thessaloniki Churches (7 sights)
* Culinary Delights (6 sights)
* Shopping in Thessaloniki (7 sights)
* Thessaloniki Art Galleries (6 sights)
* Thessaloniki Nightlife (7 sights)
* Thessaloniki Landmarks (10 sights)
* Thessaloniki Upper Town (9 sights)
* Thessaloniki Coast Line (7 sights)
All the data used in this app is built into the software, so you can follow the walking tours or use the city map without internet access or cellular data plan. You don't need to pay the costly roaming charges when traveling to foreign cities. The app is optimized for Android phone and tablet.
The powerful navigation assistance includes clearly displayed touring routes with precise turn-by-turn walking directions from one sight to the next.
`FindMe` displays your exact location and Auto Tracking displays your movement on the map (this feature is not supported on device without built-in GPS function).
7. Greek Gods Free (iPhone)

Enjoy this free Greek Gods reference. This app contains more than 360 different greek gods, each record comes with their name, gender, category and their description (more fields to come).
8. iCooking Greek Cuisine (iPhone)

Take a trip to the Greek islands with iCooking Greek Cuisine. The iCooking Greek app gives you the most delicious, easy to prepare recipes. Mouth-watering photos accompany all of these carefully selected and tested recipes. The easy to follow instructions ensure that cooking will be a breeze.
Do you have your own special Greek recipes? They can easily be added to your iCooking Greek Cuisine cookbook. Each recipe can easily be sent through email straight from the app.
Bon Appétit!
9. Greece News

It's a fast and easy way to read Greek News on Android.
Greece News gives you easy access to read the most popular news sources from Greece on your Android device. Take this app with you and stay informed with access to the latest news by site or by category.
You can download news briefs automatically and read them online
News widget is available.
Webpage can be converted to mobile format.
Option to block images (reduce bandwidth) is available as well as the possibility to share news via SMS, Email, Facebook, Twitter…
10. Greek Radios

Listen to the most popular radios of Athens and whole Greece (more than 700 radio streams in 11 categories).
You can bookmark any stream.
This application automatically stops playback when receiving incoming calls and playback can continue after the call has ended (option in the application preferences). You can always reach main application screen from notification panel when it's in playback.